Maintaining good credit is one of the most important aspects of financial responsibility, yet it is often ignored by many people. Bad credit can hurt your financial opportunities by preventing you from getting approved for loans, mortgages, or other lines of credit. While the steps required to improve your credit score may take time and dedication, it can help you avoid future financial trouble.
Now, who wouldn't want that?
So, before we get into the steps you should take to improve your credit score in Canada, let's break down the basics.
What is a Credit Score?
A credit score is a numeric expression reflecting the creditworthiness of an individual based on specific components, including payment track record. A person's credit history influences his/her score. For example, the higher your score, the more likely you are to be approved for loans or lines of credit at favourable interest rates. Low credit can reflect difficulty repaying loans and high debt levels, both of which may result in increased interest rates on loans.
Knowing your credit standing is also helpful because many lenders use this as a judgment of your financial responsibility. Financial standings are used to predict whether you will pay back a loan on time and how much interest you'll have to pay for borrowing money.
Credit Score vs. Credit Rating in Canada
What is the difference between a credit score and a credit rating in Canada? While the terms are often used interchangeably, they mean two different things. Understanding the differences between credit score vs. credit rating is important for Canadians when trying to maintain healthy credit.
The differences between a credit score and credit rating in Canada are: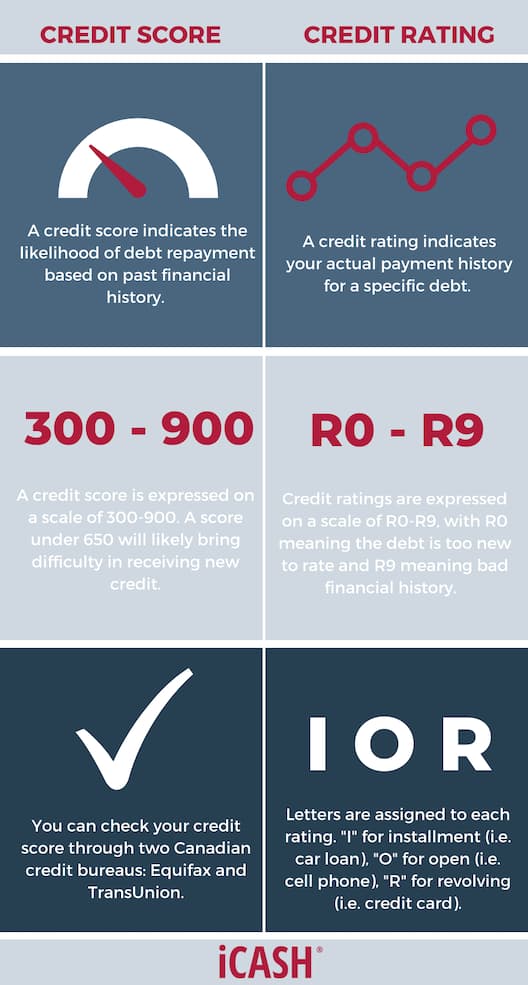 How to Check Your Credit Score in Canada
Need to know what your credit looks like? You can check by requesting a copy of your credit report from the major credit reporting agencies in Canada. By law, these agencies are required to provide this information free of charge, once every 12 months. Many companies or lenders will generally not approve you for a loan if your score is below 650, however, there are always exceptions that can be taken into consideration. For some large purchases, such as a home or a large line of credit, you may need to have an even higher score.
To learn more about how to check your credit standings, you can do your own research or enlist the help of professionals. Many services can provide a free consultation and help you review the reports.
How Canadians Can Improve Credit Score
When it comes to bad credit, improving it may seem daunting, but it's better than waiting it out because bad credit information can stay on your credit report for six to ten years. Improving your credit history can be done by completing a few steps below. With time, patience and dedication, you'll be well on your way.
1) Avoid late payments on bills. Late payments can hurt your credit by making it look like you don't pay your debts in time. To avoid this, set up autopay or payment reminders on your phone or calendar to ensure that you never miss a bill again.
2) Use only 30% of your credit limit. Using less than 30% of your credit limit ensures that you don't go over the top. On the other hand, if you put too much on your credit card (say 50%), it can make it look like you're taking advantage of your credit which will affect your score as well.
3) Pay off your credit cards completely. Paying off your credit card every month ensures that you don't get stuck with a high balance. However, if you can't pay it off completely in one go, make sure to pay at least the minimum amount due before the due date so that you don't get charged interest on it.
4) Reduce your debt. Reducing your debt load is important when trying to improve your credit. As a rule, focus first on paying bills on time. If you have many loans and credit lines, prioritize them as follows:
Installment Loans - these are loans where you make monthly payments over a set period of time i.e.  car loans, student loans, home mortgage loans, etc.

Credit cards, lines of credit, unsecured personal loans, etc.
5) Maintain a monthly budget. Having a monthly personal budget (and sticking to it!) ensures that you have a track of everything you spend. This can not only help improve your credit score but also help in the long run financially.
Some easy ways to stay on top of your personal budget are:
Get started! Build a balance sheet to track your expenses.

Check in with your balance sheet at the end of each week and cut down on any unnecessary expenses.

Plan and be prepared to cover costs for unexpected emergencies. This could mean putting any unspent money into an "emergency fund" and keeping it to pay for anything unexpected that may come your way.
6) Don't apply for multiple credit cards. While people might get tempted to sign up for multiple credit cards at once, it can harm them in the long run. Applying for multiple credit cards will have an impact on your credit, as it can indicate that you're taking out too much debt from lenders.
7) Improve your debt-to-income ratio. If you are behind on your monthly payments or have too much debt in general, your debt-to-income ratio is most likely suffering. This means that you will have to pay more money in interest on your debt than is reasonable. To improve this ratio, consider lowering your monthly payments by either refinancing your home or consolidating your debts into one loan with a better rate.
Getting a Loan with Bad Credit
The most important thing to remember is that good credit is a valuable factor in the application process for many lenders. If you have a good financial history, then more lenders will consider you to have a more manageable repayment plan. However, if you have bad credit or no credit at all, quick and easy online payday loans may still be able to help you borrow the money you need.
For example, payday loans are relatively easy to get with low requirements compared to other types of loans. The requirements are usually just your income and employment history. While the interest rates on payday loans are typically higher than other types of loans, you can repay it in one lump sum upfront.
So, if you have bad credit, your number one priority should be improving your credit score to give yourself the best chance of financial freedom. In the meantime, iCash can help you when getting bad credit loans in Canada quickly and without lengthy application processes.