E-Transfer
payday loans

Canada 24/7

Need to borrow up to $1,500? Get it instantly by filling out our fast online application. We're available 24 hours a day, 7 days a week, the process is 100% secure and only takes a few minutes.
What Are e-Transfer Loans?
An instant e-Transfer loan is a short-term borrowing option that can be used for a variety of purposes, such as unexpected expenses or to bridge the gap until payday. Our instant loans are convenient because you can apply online and receive your money within minutes. You don't need to have outstanding credit to qualify, and there is no need to fax or mail in any documents.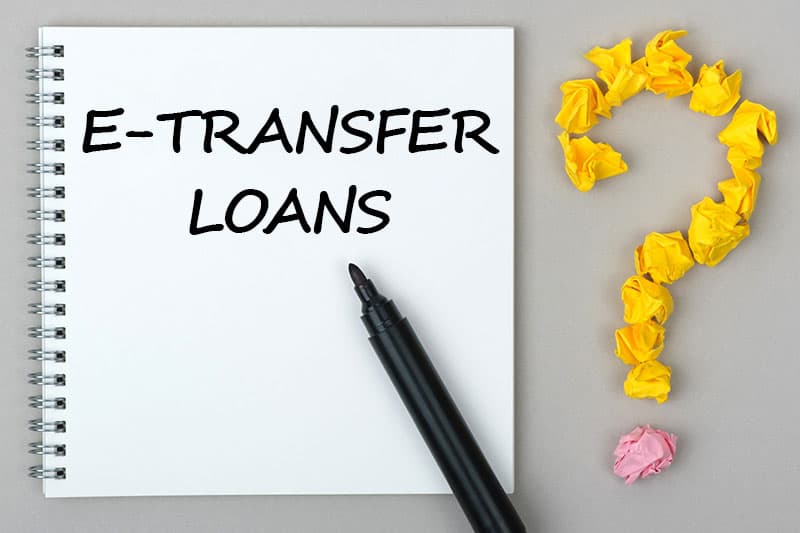 How do e-Transfer payday loans work?
Instant e-Transfer loans in Canada work just like payday loans, by borrowing against your next paycheck. You can apply via our smartphone app or online on our website and receive your email money transfer within minutes, which you can then use to cover your expenses until your next payday. The repayment process is simple as well; the loan amount plus interest is what you will need to pay back on your next payday.
Advantages of e-Transfer Payday Loans
Applying for an e-Transfer loan is one of the easiest ways to get emergency cash when you need it quickly. The process is done completely online and is 100% paperless. This is the preferred way of borrowing money for many people in Canada over traditional payday loan options because you don't need to leave your home or workplace to apply. That's right, you can apply anytime, anywhere! Your money will be electronically sent to you, and you can typically have access almost instantly.

There are many other benefits to using an e-Transfer cash advance loan:
Flexible
You can use e-Transfer loans for any purpose you need, like covering unexpected expenses or bridging the gap until your next payday. They are also great to use in case an emergency comes up and you need cash right away.
Easy to Qualify
You don't need perfect credit to qualify for a payday loan. As long as you have a steady source of income, you will likely be approved. Bad credit isn't something that will stand in your way, because iCash believes you are more than your credit score.
Simple Repayment
The repayment process is simple. You'll just need to pay back the loan amount plus interest and fees on your next payday. This is something that can be easily done, and you won't have to worry about a long drawn-out process.
Why Choose iCash for e-Transfer Loans
When it comes to getting the fastest e-Transfer loans in Canada 24/7 with no documents required, iCash is one of the most reliable lenders available. We offer many benefits that our customers appreciate, such as:
24/7 Customer Service
Our customer service team is always available to help you with anything you need. Whether you have questions about the loan process or need help with your loan application, we are here for you. 
Easy Online Application
You can apply for your loan anytime, anywhere in Canada and the entire process is paperless. Our online application only takes a few minutes to complete, and you can even do it from your mobile phone. You can log in and fill out our online loan application directly on our website, via the iCash Android app, or on the Apple store if you have an iOS device.
No Hidden Fees
At iCash, there are absolutely no hidden fees or charges for our e-Transfer loans. You'll know exactly how much you need to repay before you even apply for the loan. Having this information upfront is important, and it's something that we take pride in. Our customers appreciate being able to know what they are getting into before they borrow from us.
24/7 e-Transfer Payday Loans With Low Income Or Bad Credit
Even if you have bad credit, iCash provides loans for people with poor credit histories throughout Canada. We understand that life happens, and sometimes people fall on hard times. That's why we offer e-Transfer payday loans to Canadians with bad credit. No matter what your credit score looks like, you can apply for a loan and get the money you need quickly.

If you have a low income, you can still apply for online payday loans. As long as you have a steady source of income of at least $800/month, you'll likely have an easy time getting approved for an e-Transfer. Plus, if you're receiving disability benefits, child tax benefits, or any other forms of government assistance, you can also use these as qualifying income sources.

Many people who have poor credit histories are apprehensive about applying for loans because they fear they will be denied after the lender performs a credit check. At iCash, we believe that your credit score shouldn't stand in the way of you getting the cash you need.

We perform a standard credit check for loan applications, as all legitimate lenders will do. However, your credit history will not be the deciding factor we consider when determining whether or not to approve your loan. We also look at your current employment situation and income to ensure that you will be able to repay the loan.

It's also important to note that you should avoid doing business with payday lenders who provide no credit check loans in Canada. This is because these lenders are likely not regulated by the government and are not required to follow the same rules and regulations as licensed lenders. As a result, they can charge extremely high-interest rates, fees, and terms.
E-Transfers Sent Throughout Canada
iCash has helped over 850,000 customers get e-Transfer loans in Canada without hassle, 24/7. We offer a fast, easy, and reliable online service that people appreciate and can rely on. We have a team of dedicated customer service professionals who are available to help you with anything you need, and you can apply online anytime, anywhere, and receive your money on the same day!

We provide fast payday loan options to residents in Alberta, British Columbia, New Brunswick, Ontario, Manitoba, Nova Scotia or Prince Edward Island, and throughout Canada. Apply now on our site or via our mobile app and see how easy it is to get the cash you need e-transferred directly to you!