In an ever-changing world, where financial needs can arise at any moment, having a trusted partner by your side can make all the difference. iCash has proudly helped over 850,000 Canadians get instant payday loans quickly to deal with emergency financial situations.
The iCash rebrand embodies our vision of a future where finance is simple and available to everyone! And even with our brand new website and look, applying for a loan is still going to be incredibly easy. We understand that some of you may have concerns about that, so to put your mind at ease, we've created this blog to show you, step-by-step, how to apply for a loan with iCash!
Step 1: Create Your Account and Verify Your Email
To get started on your journey to financial flexibility, you're going to want to visit our main website at icash.ca and click the "Get a Loan" button on the top right of the page. Here, you'll quickly create your account. Fill out the quick details, and then you'll receive an email with a verification link to complete the process. If you already have an iCash account, then simply click the "Log In" button instead!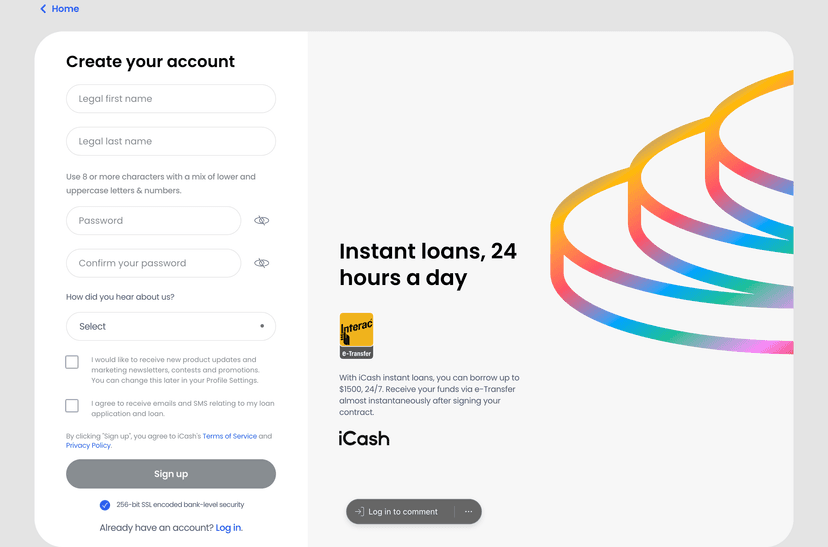 Step 2: Click the Apply Now button in Your Member Dashboard
Once you log in, you'll find yourself in your member dashboard, which is your central hub for both managing and filling out your loan application. To begin your loan application, look for the prominently displayed "Apply Now" button. This will be your gateway to accessing the loan application form.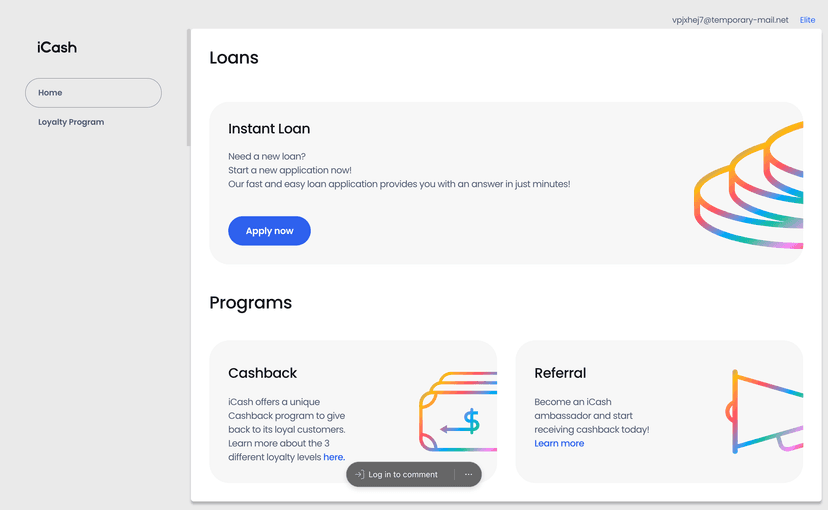 Step 3: Select Your Desired Loan Amount
This part of the application is easy. Simply select the amount (up to $1,500) that you would like to apply for, and click continue. Please note that you may not get approved for the amount you select. Our goal is to help you, so we will never loan you more than what you can comfortably afford to pay back.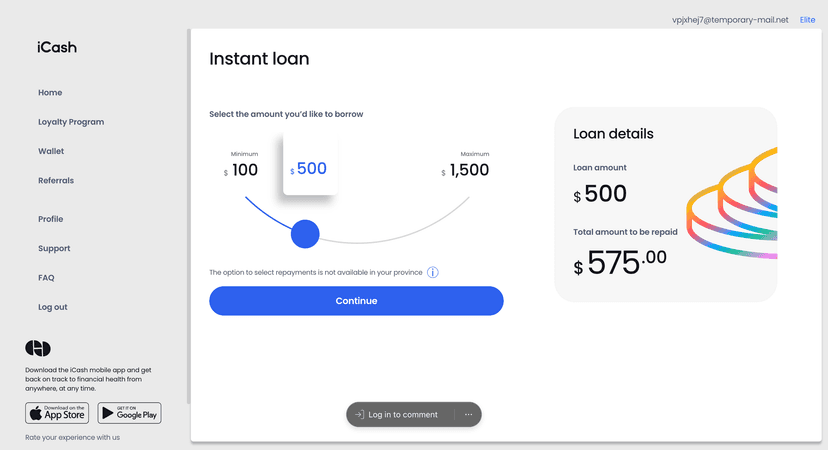 Step 4: Validate Your Mobile Number
At the next step, you will be prompted to enter your mobile phone number in the designated field. Please ensure that the number you provide is accurate, as this is the primary means of communication between iCash and you.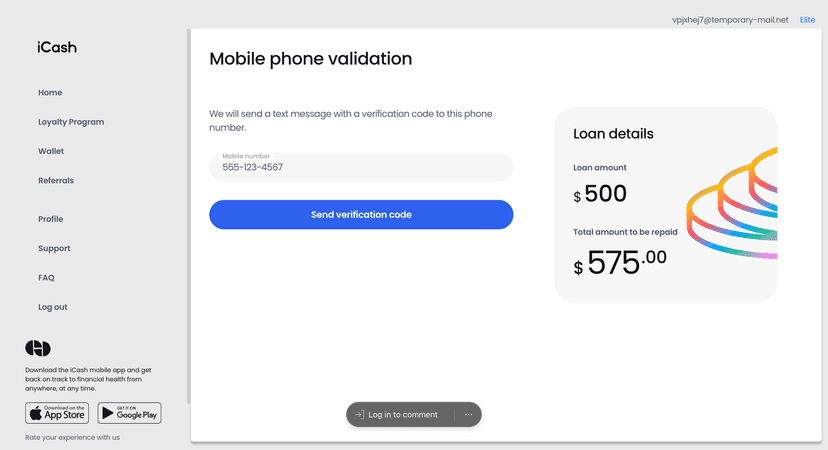 Step 5: Begin Filling Out Your Details
Once you've completed those preliminary steps, it's time to start filling out the essential details that will help us better understand your financial needs and ensure a seamless loan process.
Personal and Residential Information
In this section, you'll provide your personal information, including your full name, date of birth, and contact details. Accurate information is crucial to verify your identity and maintain open communication throughout the loan application process.
You'll also be asked to provide your residential address. Please ensure the address is current and matches the information on any supporting documents you may submit later in the process.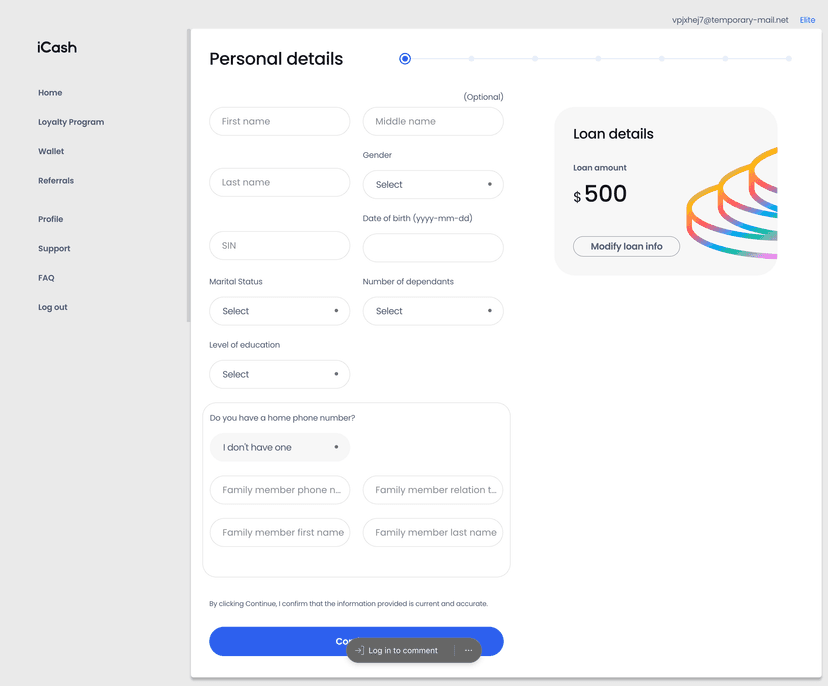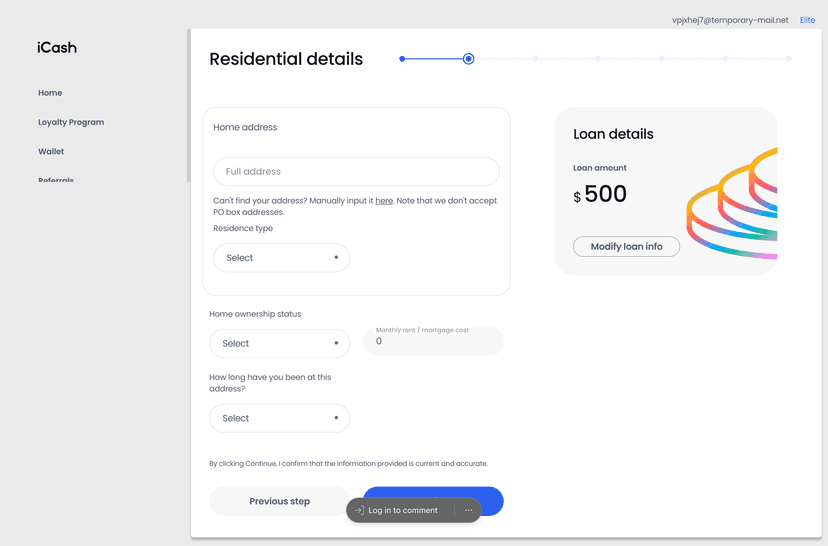 Employment Information
We'll need details about your current employment status to assess your ability to repay the loan. This includes information about your employer, job title, and how long you've been with your current employer. Don't worry, we won't be contacting your employer, so you can rest assured your privacy is protected and respected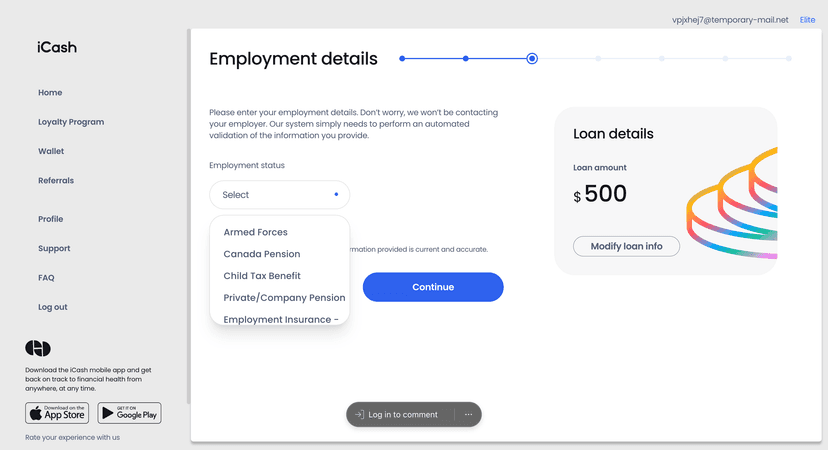 Income Information
In this section, you'll provide information about your income sources. This includes your income from your primary job or any other sources of income such as self-employment or government benefits. Accurate income information is vital at this stage for us to evaluate your ability to manage loan repayments comfortably. Rest assured that your details are treated with the utmost confidentiality and security.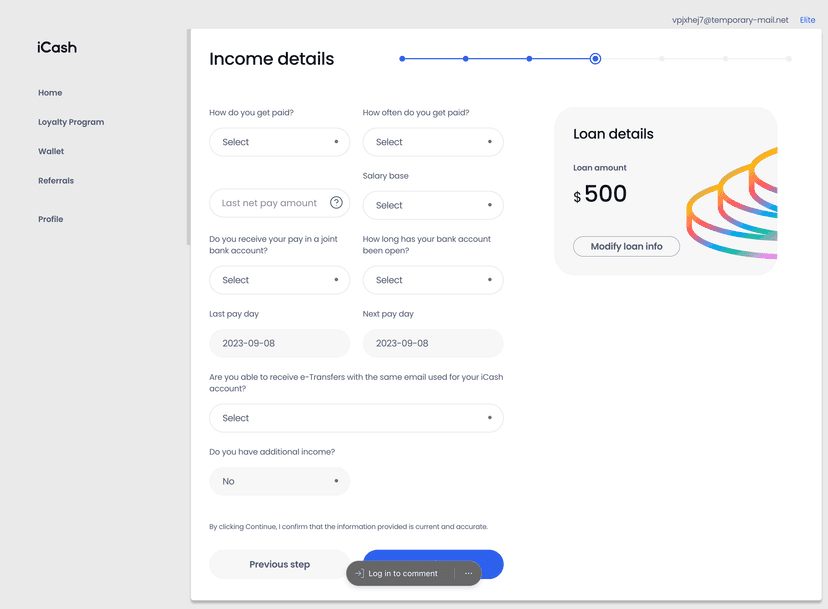 Financial Information
Here, you'll outline your financial obligations and information, such as any potential bankruptcies, any outstanding loans you may have, the range of your credit, etc. This information helps us assess your financial capacity and determine the loan amount that aligns with your financial goals.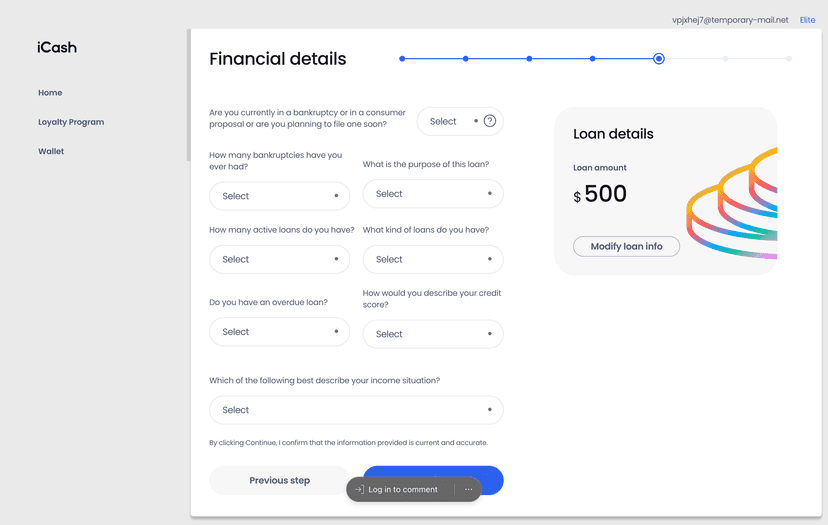 Step 6: Enter Your Reference Details
At this step, we will ask you to fill out some contact information. The person can be a family member or a friend. Don't worry, we typically only reach out to the reference in cases where there may be difficulties in reaching you.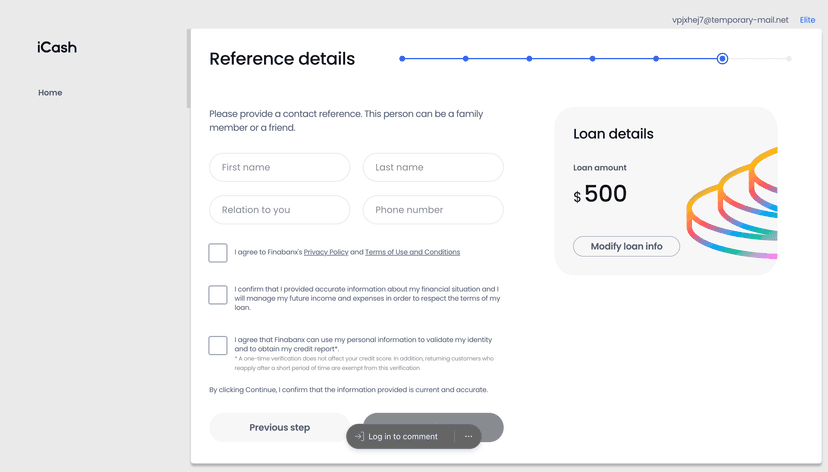 Step 7: Validate Your Banking information
Here we are at the final part! This next crucial step is to validate your banking information, ensuring a secure and seamless transaction process. You'll select your banking institution, log in to your banking account, and proceed with the step-by-step instructions given to you to validate your banking information. Your information is 100% safe and secure with iCash!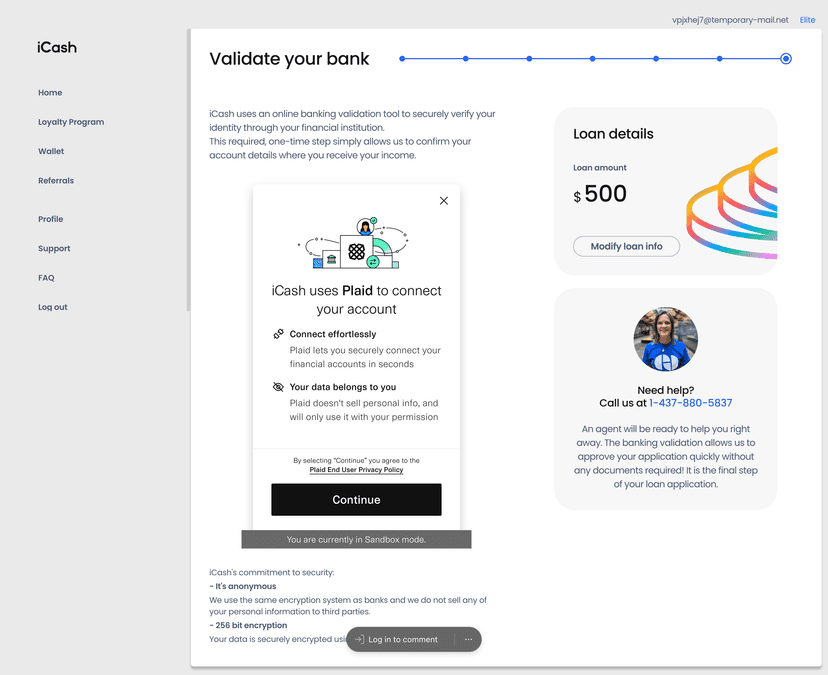 And you're done! You'll find out instantly if you've been approved or not. If you have, you'll receive an e-Transfer in 2 minutes with your approved payday loan amount!

If you have any questions or need assistance at any point in the loan application process, please don't hesitate to contact our dedicated Customer Care team. We're here to provide support and ensure that your experience with iCash is smooth and hassle-free. Your financial well-being is our top priority, and we're thrilled to be a part of your financial journey.