Easy loans in Canada
Easy loans provide Canadians with fast funds for up to $1,500, typically due on the day you receive your next paycheck.

Traditional loans from banks usually have a tiresome and lengthy application process that may include travel to an office with lots of paperwork and documents to sign. In the past, long waits for approval, the possibility of rejection would leave people with bad experiences when taking out a loan with a bank.

Fortunately, banks are no longer the only source for personal loans, especially if you want outstanding service and a simple lending process. These days, private lenders offering easy direct loans to consumers online are fast becoming the preferred standard for most Canadians.

What makes something an "easy simple loan" is naturally going to be subjective, depending on the customer's prior experiences, preferences, and expectations with the lending process. Most people would tend to agree that a loan which is easy and quick to apply for should have the following features:
• No physical paperwork or documents involved.
• No collateral required to obtain a loan.
• Easy and straightforward qualification requirements.
• Transparent and easily understandable loan agreement.
• High odds of approval, regardless of your credit score.
• 24/7 customer support and assistance.
• Flexible repayment options available*.
Easy loans from lenders should have a simple application process and allow you to borrow money online should an emergency arise.
One of the best things about easy personal loans is that there are no limitations or requirements on how you use the funds. When you need quick cash, for whatever reason, easy loans can be the best choice. Here's a list of just some of the most popular uses:
• Car repairs
• Family emergency
• Replacing a home appliance that stopped working
• Helping with education expenses
• Making ends meet until the next payday
• Emergency dental work
• Veterinary bills
Fast Easy Loans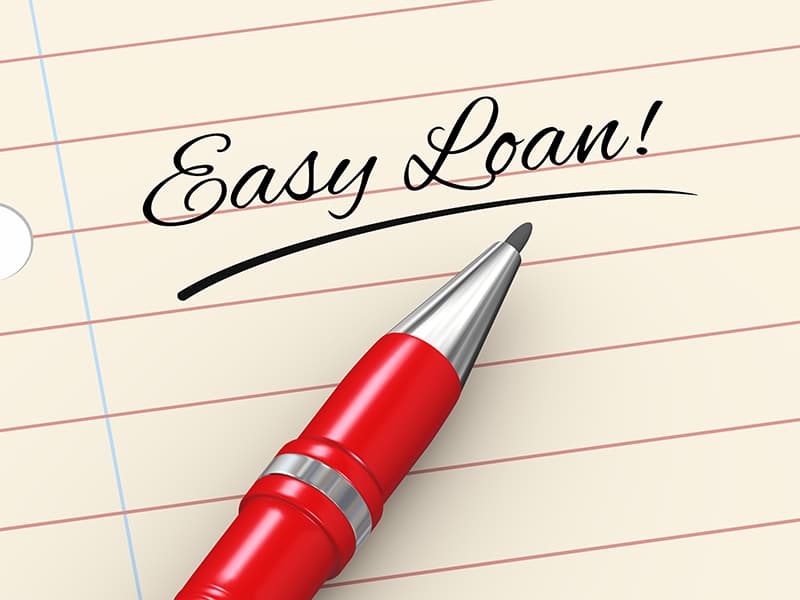 When Canadians have an unexpected expense, they can apply for fast, easy loans and get funded the same day.

We provide access to easy approval loans, so you don't have to go to a loan store, which is especially inconvenient when you're in a rush. You can apply for an express loan and get instant approval 24/7.

Quick and easy loans have simple requirements and can provide instant decision. But what about if it takes days or weeks to get your money, or if you need to spend hours in a lender's office. Then that's not exactly an easy to get a short term loan, is it? Speed is a key component when it comes to borrowing money from an innovative and modern online lender.

You need both speed and simplicity across the entire lending process steps to have a positive experience. Quick and easy loans provide you with immediate funds for up to $1,500.

Applying for a money loan with us means that you can complete your application from the comfort of your own home or office on a smartphone or computer.

When you apply for a quick loan, you will need to provide your name, home address, current employer, as well as your Canadian bank account number.

Our software will analyse this information, and you'll get a fast decision on your loan.

To be considered a fast loan, the application process should:
• Provide a simple and loan application that can take as little as 5 minutes to complete.
• Get pre-approved quickly in just minutes 24/7.
• Quick and instant approval decision.
• Get your funds within 5 minutes by e-transfer.
• Little or no travel time getting to a lender's office.
• Ability to apply online.
• Fast and secure funding.
• Automated and simple repayment options*
Quick, fast, easy loans can provide you with quick cash the same day.
Easy Loans Online
Easy loans online in Canada enable you to apply and get instant approval with same day funding. Compared to traditional lenders, online lenders have a more straightforward application process, which most of the time does not require physical paperwork or documents to fill out.

Quick and easy payday loans online can be obtained from anywhere, since you don't need to visit a cash store location to apply for one. This is especially beneficial during cold Canadian winters and for those customers who live in rural areas with few lending stores within easy reach.

Online money lenders can quickly evaluate and review your application after submission. Thanks to advanced technology, they can also provide fast approval decision. Your funds can be sent via e-transfer in less than an hour.

Another aspect of convenience for these easy online loans is not having to worry about repayment. Direct lenders are provided with the ability to withdraw the funds directly from your bank account on the due date; you only need to have the funds available on the repayment date.

Traditional short term loans usually offer a single lump sum repayment due on your next pay period. However, when you apply online for an easy loan with instant approval, modern lenders allow you to choose from 1 to multiple installment payments*. The possibility to be able to extend repayment for a longer period makes it easier and more convenient for most borrowers to effectively repay their loan on time.
Easy Loans for Bad Credit
Easy loans for people with bad credit are available for up to $1,500. There are now more Canadians applying for easy loans for bad credit than ever before, and the number of people taking out small loans is continuing to grow.

These loans can offer people an easy way to get a loan with bad credit through a simple qualification process, unlike traditional bank loans, which are harder to obtain.

Loans for bad credit are often one of the only ways for people with a bad rating to get funded. These loans are essential for handling emergencies or unplanned expenses. When you don't have a savings account, or you live paycheck to paycheck, having access to instant cash can be critical.

Since banks rely on credit scores as a metric of risk for loan candidates, bad credit applicants, most of the time, are declined when applying for a loan. On the other hand, online lenders set their risk tolerances and policies, making small loans easier to qualify for, even if you have poor credit or no credit history at all.

Most direct lenders perform credit checks even though they don't require a minimum credit score to be eligible for a loan. Credit checks are performed to validate the borrower's identity information and to prevent identity fraud.

Less reputable lenders sometimes advertise "easy loans with no credit check," which can be appealing to those customers who have bad credit. However, it should be a red flag, since most of reputable lenders perform credit checks during loan approvals.

Unlike many banks and other lending institutions, we don't use your credit score as a determining factor for getting you approved. While we do perform a credit check when you apply for an easy loan for bad credit, your credit score alone will not be the only data point that we look at.

The most important factor that we consider when we look at your loan application is your income and whether or not you have the financial means to repay your loan which is why it's easier than ever to qualify for unsecured loans for poor credit.
Need an Easy Payday Loan?
An easy payday loan is a quick fix when you face an unanticipated expense turning your entire budget upside down. A surprise, even a positive one, can bring additional stress to your finances.

These types of loans are quite popular among Canadians, and with one quick look below, not only will you see why, but you will keep it as a top solution for the next time you are in temporary financial dire straits.

When it's a cost that you cannot postpone, quick, easy, no-hassle payday loans from a private lender can help you breathe easily again.

Banks are not of much help when you need a loan, even if it's not a large sum. Their decisional process relies on heavy paperwork, strict requirements, and, not the least, takes too long.

When you have an emergency, time is essential. With a lender like us, you can get easy payday loans online sooner than you think, without leaving your home.

But let's take a closer look. What exactly qualifies as easy when it comes to short-term loans? As we said before, time is a primary criterion, and getting easy loans online in Canada means submitting your application electronically and receiving your answer almost instantly.

Another crucial aspect is income source, as not only people living on a salary face temporary financial struggles. One of the primary advantages when accessing easy payday loans online with a lender like iCash is that we accept a wide variety of government sources.

So even if you are in one of these categories, you can still access quick, easy approval payday loans and overcome your financial distress.

The good news is that with iCash, loans are also available for people with bad credit. That's one of the main concerns when you have to apply for a loan.

If you had a rough patch in the past and your credit is low, a bad credit loan from a private lender is your only option, as banks will not consider your request.

Overall, easy payday loans from iCash are the answer to your need for a temporary cash infusion because they are designed to meet the most frequent needs people have. We made a priority of adjusting our terms to be accessible to as many categories as possible.

Our application process is as quick, easy, and safe as possible, and we ask no questions regarding how you use the money. Canadians who access these quick and easy payday loans can get up to $1,500.