NEED 3 MONTH
PAYDAY LOANS?
A payday loan for three months would be a loan that you can take to cover a financial emergency and to be paid back over that period of time. You would get a lump sum to use for your urgent costs and, as the name suggests, have 90 days to reimburse the loan.

However, 3-month payday loans in Canada don't exist. While you can easily extend the refunding period over one month, the maximum period to pay back a cash loan is 62 days.

Since people used to receive their paychecks twice a month, payday loans were initially called 14-day loans. In time, the reimbursement period has been extended to give clients more time to pay back the loan. But if you're looking for 3-month payday loans from direct lenders, you won't find any.

For 3 month loans in Canada, personal loans can be a good option. These loans can be taken for more than three months to 5 years or even more. As for the amounts you can access through this type of loan, they range from $500 to $35,000, so you can borrow more than with a cash advance loan.
If you are looking for payday loans with three month repayment period, you need to find alternative funds sources.

Since 3-month payday loans in Canada are not an option, you can turn to your friends and family as an alternative financing type. If they can help you with the cash you need for 90 days, you can even draft a contract to make the loan official.

Still, if you think you don't necessarily need three months to pay back the money, you can revisit the idea of an online payday loan since they are easy to access.
1 MONTH PAYDAY LOANS IN CANADA
In Canada, 1-month payday loans allow you to borrow up to $1,500 for 30 days against your paycheck, with an interest rate. These small payday loans are usually issued for 2 weeks to 62 days.

Since bi-weekly pay cycles were the most commonly used by Canadians, payday loans were also called 14-day loans. However, modern lenders offer more flexible repayment options* and loan durations.

Short term loans of 1 month allow you to repay your loan in 4 weeks, according to your income cycle. They are also unsecured loans, meaning you don't need to provide any collateral for loan approval. These are also called as instant loans, as the funds are available quickly in the form of an e-Transfer or direct deposit into your bank account.

Coupled with the fact that the proceeds from the best payday loans are unrestricted in terms of their use, they are an accessible option for getting instant cash when you need it the most.
These loans are mostly used when immediate money is required to handle unexpected expenses. They are not recommended to be used as a long-term financial solution, but as a fix for short term needs, such as car repairs or medical bills.

By offering 30-day loans to consumers, reputable direct lenders provide Canadians with the flexibility to repay the loan amount in one or multiple repayments*. This makes it easier for most borrowers to meet their financial obligations.

Compared to traditional banks, these alternative loans are easy to be approved for. They usually have simple requirements and allow you to get payday loans for one month 24/7, including nights, weekends, and holidays.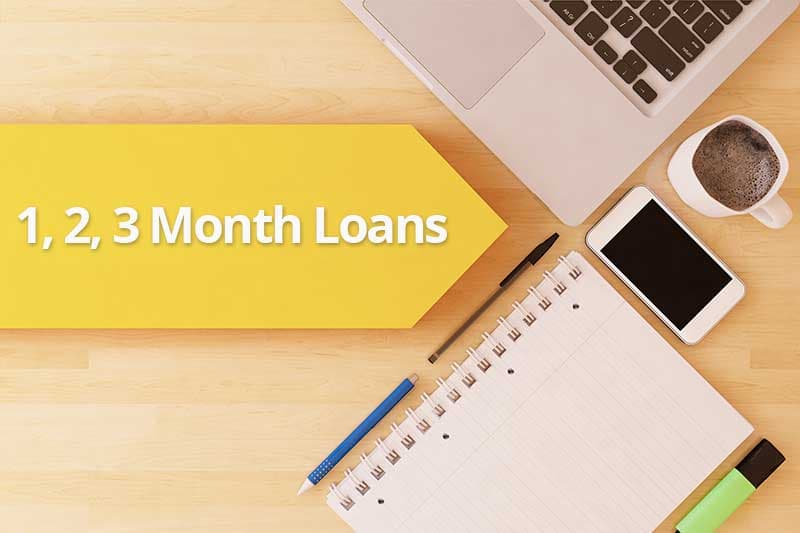 Payday Loans with 30 Day Payback
Payday loans you pay back over 30 days or more are very similar to traditional short term loans. This option allows Canadians to have access to immediate funds, with the ability to repay them in 1 month.

Depending on the lender you choose and the frequency of your pay cycle, you may be able to select the duration of your loan. Depending on the province you reside in, some lenders may offer loans with flexible repayment options.*

For example, if you are paid bi-weekly and choose three installment payments, the loan's total duration will be about six weeks.

Compared to other financial products, 30-day payday loans have an easy and fast application process. If you search for "1-month payday loans near me", you can apply in-person. You can also apply online anytime and get instant approval.

Many direct lenders who offer payday loans with instant approval in Canada have low requirements. Making it easy for borrowers to qualify for a loan.

To be eligible for a loan from iCash, you must:
Be at least 18 years old (19 years old for applicants in British Columbia, New Brunswick, Nova Scotia).

Be a resident of any of the provinces in which we operate.

Show that you have been receiving the same source of income for the past three months.

Have a total net income of at least $800/month.

Have access to an online bank account.

Have a valid mobile phone number, address, and email address (VoIP numbers are not accepted).
In some cases, lenders may ask you to meet additional requirements such as having a minimum credit score.

Private lenders may accept different income sources, such as government benefits, income assistance, insurance benefits, etc.

When applying with a direct lender for a 30 day payday loan, the application process may take around 15 minutes or less to be completed online.
1 Month Payday Loans from Direct Lenders
1-month payday loans from direct lenders can lend you up to $1,500 and provide you with instant approval and funding via e-Transfer. You can get your money quickly in just 2 minutes.

As with any online transaction, it's essential to make sure you choose a qualified, reliable, and licensed direct lender. In Canada, the maximum borrowing cost of quick loans is regulated by the province you reside in.

Before getting a 30-day payday loan from a direct lender, it's always best to check if the lender is in good standing at the Better Business Bureau. You can also check for its online reputation, the number of reviews, and ratings to ensure you are dealing with a legitimate company.

Here are some things to consider when you're searching for a 1-month loan:
- Ensure the lender is licensed to operate in the province you reside in.
- Review their eligibility requirements, application and funding process.
- Ensure your loan agreement is clear in terms of fees, duration and repayment dates.
- Make sure you know the total cost of borrowing.
- Ensure they will securely protect your information.
It is essential to take the time and effort to search for a trustworthy company to ensure a positive experience when you apply for a loan.

The best choice of direct lender in most provinces in Canada today is iCash. We are a Canadian-based company, licensed and regulated in every province in which we operate. We offer 30-day payday loans in an instant and safe way.
1 Month Payday Loans Online
Obtaining a 1-month payday loan online in Canada is fast, easy, and convenient. Online loans give you access to quick cash when you need money for emergencies or unexpected expenses. You can apply for a loan online for up to $1,500, and you can repay it on your next payday. They are easier to qualify for since they do not require collateral.

Modern private lenders have a more comfortable and faster process than traditional lenders. They have pioneered direct lending and are entirely focused on being consumer-friendly while also using technology to provide Canadians with access to 30-day payday loans.

Usually, online payday loans do not require any physical documents or forms to be filled out. You don't have to get an appointment or wait in line to apply for a loan. You can easily apply from your home or office.

When applying for a 30-day loan online, you can get approved and get funded from 30 to 60 minutes. The application and funding process time will vary according to the lender you choose.

The best online lenders can provide you with funds within 5 minutes, 24/7. This means that you don't have to wait for the next business day to get the money in your account.

To apply for a 1-month loan online, you need to:
1. Fill out the online application, which usually takes a few minutes.
2. Because everything is digital, you don't have to wait a long time to get instant approval.
3. Upon approval, you will receive a digital loan agreement that needs to be reviewed and signed.
4. Once you signed your agreement, you will need to send it back.
5. Upon reception of your contract, your funds will be released and available within 5 minutes. Our loans with e-Transfer funding are available 24/7/365.
6. Depending on your income cycle and the province you live in, you can choose multiple repayments*. Even if you are paid weekly, bi-weekly, or twice a month, you can select to repay your loan up to 3 repayments*, which in some cases might be more than one month.
1 Month Payday Loans for Customers with Bad Credit
1 month payday loans for customer with bad credit can be easily obtained regardless of your score. Even if you have bad credit, you can still apply for a loan of up to $1,500. This provides Canadians with access to fast money, when the traditional lending institutions have turned them down.

30-day payday loans offer more flexible loans to customers who have poor credit or no history at all. Usually, banks focus on the credit score of a customer to determine their eligibility for a loan.

Having bad credit has been usually an impediment for borrowers to access loans. While credit history is essential, modern money lenders will look at the customer's circumstances and decide based on the information provided during the application.

While some private lenders require you to have a minimum credit score to qualify for their services, some do not. Usually, the credit score needed from private lenders is lower than what is required by banks. That is why anyone can apply for a 30-day bad credit loan and get instant approval.

However, some lenders may approve you for a lower amount on your one month loan if you have poor credit.

Most of the time, a credit check is performed to validate your identity, income, and employment information, even if they don't ask for a minimum credit score to be met. Lenders offering payday loans without checking your credit should raise red flags for borrowers, as they may not be licensed direct lenders or following the regulations in their respective provinces.

When you apply for a loan with bad credit for 30 days, make sure you meet the credit score requirement (if there is one) before applying. This will increase the probability of being approved.

At iCash, we do not refuse applicants based on their credit score. We also don't have minimum credit score requirements so that you can get a 30-day payday loan with us, regardless of your credit.

Do you need a 1-month payday loan for bad credit? Apply now and get instant approval!