Child Tax Loans
Child tax loans are financial advances designed to support families, acting as a bridge during times when immediate expenses outweigh available funds. These types of online payday loans instant approval accept income from child tax benefits, making it easier for parents to qualify for funding and get the assistance they need to care and support their children.
Canada's child tax benefits provide a financial cushion for families, providing monthly payments to help cover the cost of raising children. The Canada Child Benefit (CCB for short) allocated $24.5 billion to 3.3 million families in the 2019-20 fiscal year, assisting 5.9 million parents who had children under 18. 
As helpful as they are, sometimes what a family receives simply may not be enough to cover all of their expenses, leaving them worried about covering all their bills. Thankfully, loans that accept child tax benefits can make your life easier.
iCash offers tailored solutions for all Canadians, such as loans for up to $1,500 with child tax benefits. As a result, Canadian families can receive support that goes beyond empty promises. With a range of loans that work in conjunction with child tax benefits, we're happy to be a reliable ally for families seeking financial stability and peace of mind.
Embrace the financial support you need without delay. Take control of your finances now and provide your family with the security they deserve. Canadians who need extra cash and have kids under 18 years of age should consider getting loans on child tax benefits because they: 
24/7 child tax loans - You can apply online anytime of the day or night 365 a year.

Simplified Loan Application: When unexpected expenses arise, the speed of obtaining funds is crucial. Child Tax Loans offer swift processing, ensuring that you have the necessary funds when you need them.

Immediate Cash: Get quick approvals and fast funding to address your needs promptly.

No Collateral Required: As an unsecured loan, Child Tax Loans do not require you to put up any personal assets as collateral, offering peace of mind and securing your family's assets.
By taking advantage of Child Tax Loans, you empower yourself to meet the financial demands of parenting head-on. Your family's well-being is paramount, and with these loans, you can ensure that financial hurdles don't detract from the joys of raising your children. 
Apply for a Child Tax Loan today and experience the relief and peace of mind that comes with Child Tax Loans—where your family's future is secure.
Child Tax Payday Loans
Child tax payday loans are the smart way to leverage your future tax benefits for urgent needs today, by providing immediate cash for up to $1,500 when you need real-time financial support. Unlike traditional loans from banks, which can involve a long, tedious application process and hard-to-meet eligibility criteria, child tax benefit loans are much more accessible and tailored with easy-to-meet eligibility criteria for parents and guardians.
These are short term loans online, designed for families to address unexpected expenses without being locked into long repayment periods. One great aspect of child tax Ontario payday loans is the speed and ease with which they can be accessed. 
Traditional loans could normally take days or even weeks for approval, whereas child tax payday loans can often be processed and approved swiftly.
Lenders like iCash understand how urgent things can get when families are stuck in a financial emergency of some kind. With an easy and fast online application process, along with quick e-transfer, you can get the funds you need in less than 2 minutes. This approach ensures that families experience as little financial stress as possible and empowers them to focus on what truly matters – nurturing and supporting their children.
One of the many great things of using payday loans using child tax credit is that they do not require collateral since the loan is taken against the guaranteed CCB payments. This aspect is particularly beneficial for families who might otherwise be ineligible for financial assistance.
Repayment of these loans is conveniently set up along with the dates of CCB benefits payments, thus making it easier for parents to budget for their families. 
They can plan their finances without having to allocate additional resources for loan repayment. Also, the money that will be coming in from CCTB payday loans can provide quick cash relief and help the  family's quality of life, allowing for better nutrition, healthcare, and educational opportunities for their children.
Understanding these benefits is just the first step. If you're ready to learn how payday loans on child tax could support your family's needs, apply today and secure your family's future and ensure that your financial health is on solid ground.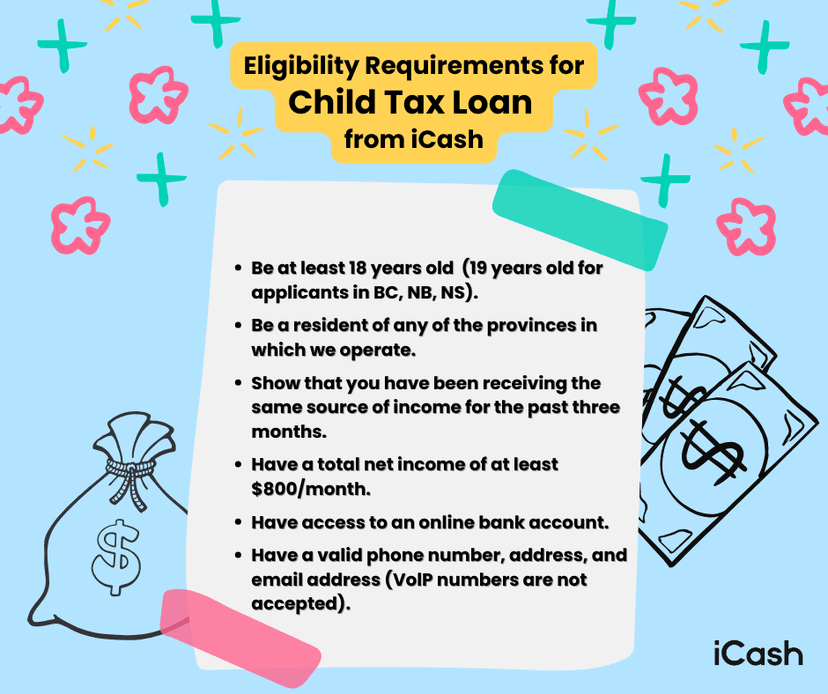 Online Payday Loans That Accept Child Tax
Online payday loans that accept child tax credit are a great option for families receiving child tax benefits that may not qualify for traditional loans from banks. Online payday loans are designed to be quickly accessible, providing immediate relief for up to $1,500 for unexpected expenses or short-term financial needs.
Payday loans online are incredibly important in today's fast-paced digital age. They provide Canadians with near-immediate financial assistance without the hassle of lengthy paperwork or in-person visits to a financial institution. These types of online solutions are especially convenient for parents and guardians who are often juggling multiple responsibilities.
With this option, families can rest assured that they are opting for a type of loan that is tailored to their unique circumstances. They'll experience an online application process that is streamlined, with fast approval decisions, and funds that can be transferred electronically in a matter of minutes.
Determining the amount you can receive through online child tax loans involves understanding the Canada Child Benefit (CCB) program's calculation parameters and how they apply to your family's situation.
The CCB amount is calculated based on several factors, including your family's net income, the number of children, and their ages. Since child tax loans are essentially advances on your future CCB payments, the loan amount you're eligible for will be a portion of your expected annual CCB.
To calculate your potential child tax loan, start by assessing your family's net income. The CCB is designed to support those who need it most, so as your income increases, the amount of benefit—and consequently the available loan amount—decreases. The number of children you have and their ages are also crucial because the CCB provides more for younger children, acknowledging the higher costs associated with their care.
Keep in mind that while a payday loan online with child tax can provide immediate access to funds, it's important to consider the impact of this loan on your family's finances over the entire year. It's essential to factor this into your household budget to ensure that you can manage your finances effectively throughout the year.
What Are the Canada Child Tax Benefits?
Canada Child Tax Benefits are a form of financial support extended by the Canadian government to families with children under the age of 18. The beneficiaries of these benefits are mainly families with young children and single parents. 
These benefits are tax-free and are designed to assist parents and guardians in covering the costs associated with raising a family, such as education, clothing, food, and general childcare.
In many instances, the extra financial support from these benefits can mean the difference between struggling to pay bills and being able to provide a comfortable upbringing for children.
However, these benefits may not always arrive in time for families, and they may find themselves in need of immediate financial relief before the next benefit is due. This is where 24/7 child tax loans come into play. With these loans, families can get funds quickly, enabling them to meet immediate needs without having to wait for the next scheduled benefit payment. These loans act as a safety net to ensure families can navigate unexpected expenses without stress.
Child Tax Benefit Payment Dates 2023
The CRA will make payments for the Canada Child Benefit (CCB) on the following dates in 2023:
January 20, 2023

February 20, 2023

March 20, 2023

April 20, 2023

May 19, 2023

June 20, 2023

July 20, 2023

August 18, 2023

September 20, 2023

October 20, 2023

November 20, 2023

December 13, 2023
Eligibility Requirements for Child Tax Payday Loan
The eligibility requirements for child tax payday loans are designed to be easy to meet. That way many Canadian families and single parents will have an easier time qualifying for them. 
Generally, for a loan on child tax benefits include being a resident of Canada, being of legal age, having a steady source of income (can include government benefits, self-employment and other non-traditional forms of income), and having an active bank account. In the context of child tax payday loans in Canada, recipients of this benefit can also be considered as having a source of income.
Understanding who is eligible for child tax loans is essential for Canadian families looking to utilize this financial tool. The eligibility for these loans is inherently linked to the Canada Child Benefit (CCB) program, which serves as the foundation for acquiring child tax loans. Here, we outline the key criteria that families must meet to be considered for this advance on their tax credits.
We've streamlined the eligibility requirements, making it easier for applicants to understand and complete the process and get money via e-Transfer as quickly as possible. To get approved, you must:
Be at least 18 years old (19 years old for applicants in British Columbia, New Brunswick, Nova Scotia).

Be a resident of any of the provinces in which we operate. (AB, ON, BC, MB, NB, NS, PEI)

Show that you have been receiving the same source of income for the past three months.

Have a total net income of at least $800/month.

Have access to an online bank account.

Have a valid mobile phone number, address, and email address (VoIP numbers are not accepted).
Loans With Child Tax No Credit Check
Accessibility is a major benefit of loans with child tax no credit check, especially for individuals with lower credit scores. Most traditional loans require rigorous credit checks, and having a less-than-perfect credit score can often result in immediate disqualification. 
Loans that do not require a credit check, or only a soft credit check, however, ensure financial assistance is accessible to more people.
Reputable lenders will always perform, at the very least, a soft credit check. However, lending decisions will not be based solely on your credit score. Quite the opposite! Instead, your source of income and general reliability as a customer will take priority, which is why it's much easier to qualify for a payday loan with child tax benefit income. 
People who have experienced financial hardships in the past and are trying to rebuild their financial stability will benefit greatly from this approach.
You can trust us for such loans because of our understanding, quick response times, and hassle-free application process. We always prioritize accessibility and customer needs, so that we can be a reliable ally for families in need of financial support.
e-Transfer Child Tax Payday Loans Canada 24/7
Dealing with financial emergencies becomes much easier when you have access to e-Transfer child tax payday loans in Canada 24/7, because you can get up to $1,500 in 2 minutes via e-Transfer any time, any day! These specialized child tax benefit loans are a reliable safety net, available around the clock.
In a perfect world, you would only have to deal with financial struggles in times when you have the funds to cover expenses - but unfortunately, that simply isn't the case. That's why 24/7 child tax loans are designed with the understanding that financial issues can arise at any moment - even on weekends and holidays.
Whether it's an urgent medical expense or a sudden school fee, having the option to secure a loan at any time provides invaluable peace of mind for parents. This round-the-clock availability ensures that families can address their financial needs promptly, without waiting for traditional banking hours.
e-Transfer child tax loans are designed to cater to the immediate needs of families. Providers like iCash make financial journeys easier for families by offering quick, reliable, and round-the-clock solutions.
Top Uses for Cash Advances on Child Tax Credits
Cash advances on child tax credits are a type of short-term borrowing designed to provide quick money when Canadian families need quick cash urgently. Here are some of the most common uses of child tax loans in Canada:
Childcare Expenses: Child tax benefits in Canada play a vital role in covering costs associated with childcare, making it easier for parents to manage the financial strain of daycare, babysitting, or after-school programs. Working parents can benefit from these benefits, ensuring their children are cared for in a safe and nurturing environment while they fulfill their work duties.

Educational Needs: Advances on Child tax benefits can help offset expenses related to education, such as school supplies, books, and even cover a portion of tuition fees for extracurricular activities.

Healthcare Costs: Some medical or dental costs are not covered by insurance. Child tax benefits can help parents cover unexpected healthcare costs like orthodontics, prescription glasses, or specialized therapies.

Household Essentials: Money advances child tax benefits also help cover the cost of household essentials like nutritious groceries, appropriate clothing for the changing seasons, and the ability to keep up with utility bills.

Emergency Situations: Sudden car repairs or essential home maintenance can disrupt a family's financial stability without any notice. Cash advances on Child tax benefits can provide a cushion to absorb these shocks, preventing these events from becoming a financial crisis.

Recreational Activities: Child tax benefits can help cover the costs of enrolling children in programs like sports, arts, and other recreational activities, which may otherwise be out of reach for many families due to budget constraints.
In summary, cash advances for child tax benefits present a practical solution for families needing immediate loans. These advances offer a practical way to handle unexpected expenses, ensuring families can maintain financial stability even in challenging times.
Apply for a loan that can support your family's unique needs, providing peace of mind and financial flexibility when you need it most.
Questions About Child Tax Loans in Canada
What are the eligibility requirements for child tax payday loans?
Eligibility requirements for child tax payday loans typically include being a Canadian resident, of legal age, having a steady source of income (such as child tax benefits), and possessing an active bank account. 
Some providers may have additional criteria such as a minimum monthly income requirement.
How can I apply for online payday loans that accept child tax benefits?
To apply for online payday loans that accept child tax benefits, visit the website of a trusted payday loan provider and fill out the online application form. That's all there is to it.
Are there any specific loans designed for child tax benefits?
Yes, child tax payday loans are designed to assist families who need additional income support. These loans consider child tax benefits as a source of income and provide quick, short-term financial assistance.
What should I consider when choosing a payday loan provider for child tax benefits?
Consider factors such as ease of application, eligibility requirements, interest rates, repayment terms, and the provider's reputation for customer service and reliability when choosing a payday loan provider.
How does iCash ensure the security and privacy of customer information?
iCash protects customer information through encryption, secure servers, and compliance with privacy regulations, ensuring that personal and financial information remains confidential and secure.
Apply for a Child Tax Loan from iCash

Child tax payday loans are practical and immediate solutions for families raising children in Canada. From understanding the nuances of Canada Child Tax Benefits to exploring options like 24/7 child tax loans and e-Transfer loans, families have a plethora of resources to aid them when they need it most.
We're happy to be a trusted partner in this journey, providing families receiving child tax benefits with accessible, user-friendly, and prompt financial assistance when the benefits they receive may simply not be enough to cover all expenses. With a focus on convenience, speed, and inclusivity, we ensure that support is available when families need it the most. Apply for a child tax payday loan with us today and empower yourself to navigate through your financial needs seamlessly and confidently!