Emergency Loans In Canada
When life throws unexpected financial challenges your way, having a safety net in the form of emergency loans in Canada can make all the difference. A quick and accessible solution, these loans act as a beacon of hope during financial storms in Canada. 
By design, emergency loans in Canada are meant to provide funds in the form of an instant payday loan as quickly as possible, ensuring that you're never left stranded in unexpected times of crisis.
Whether you're facing unforeseen medical bills, car repairs, or other urgent financial needs, these loans are designed to meet the demand for immediate financial relief.
When dealing with emergencies, time is of the essence. You simply may not be in a position to wait a few days, or even a few hours, to secure a cash loan in order to pay your bills. This is why emergency loans are such a game-changer. They are quick, accessible to almost every Canadian and help you deal with life's unexpected challenges in an incredibly fast and convenient way.
With a commitment to providing accessible payday loans in Canada, iCash offers a lifeline for those seeking financial stability during emergencies. Rest assured that your financial well-being is in capable hands.
Types of Emergency Loans in Canada
Emergencies can strike when you least expect them, and that's why you can get an instant emergency loan in Canada to help you. These quick loans are designed to offer fast and accessible solutions, providing a financial lifeline in your time of need.
If you need emergency cash immediately, Canadians have access to different types of emergency loans, each catering to different needs. Some common types include:
Payday Loans: Payday loans offer an amount of money usually ranging from $100 to $1,500. The loan is often due on your next payday, making it ideal for short-term emergencies. They're designed to bridge the gap between your immediate financial needs and your upcoming paycheck.

Installment Loans: With installment loans in Canada, you can repay the borrowed amount in fixed installments*, giving you a bit more flexibility. This structured approach ensures that you can meet your financial obligations without straining your budget.


No Credit Check Loans: These loans are available to individuals with less-than-perfect credit histories, providing a lifeline when credit is an issue. It's important to note that legit loan lenders like iCash will still perform a soft credit check, but approval decisions are based on factors like income and repayment capacity, rather than a person's score.
The Purpose and Benefits of Emergency Loan
As the name suggests, emergency loans serve the main purpose of providing immediate financial assistance when it's needed ASAP. They act as a sort of financial safety net, offering a range of benefits that can be a game-changer in the face of financial emergencies:
One of the standout features of emergency loans is their fast processing. Usually, you don't have the luxury of time if you're dealing with a financial issue. Getting emergency money in Canada in the form of a payday loan will help provide you with the funds you need as quickly as possible, often on the same day.
These loans are also accessible in more ways than one. People with bad or poor credit likely won't get approved for a loan from a traditional institution like a bank. But if you need money now, even people with poor credit can easily get approved. It's also accessible in the sense that the entire process, from applying for the loan to receiving your funds in the form of an instant e-Transfer, can all be done online, so you never have to leave your home - a huge advantage for people who may be unable to do so.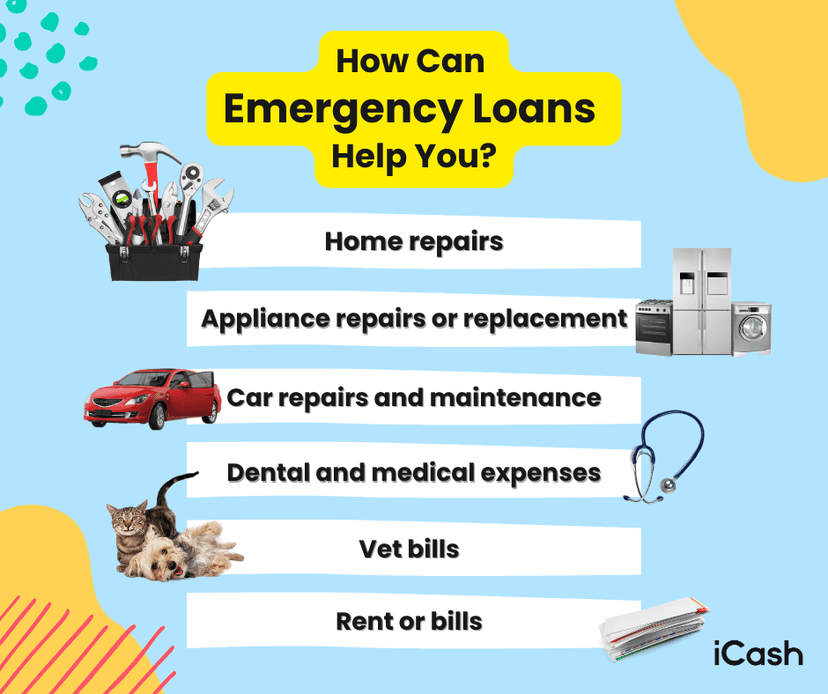 Emergency Loans for Bad Credit

If you have bad credit, the fear of rejection from lenders can leave you feeling stuck and anxious, but emergency loans for bad credit can make all the difference in your life. Bad credit is often misunderstood to mean that you cannot get a loan. Having a low credit score does not automatically disqualify you from getting a loan.

Many lenders in Canada, such as iCash, recognize that life is unpredictable, and your credit score isn't the sole thing that should define you as a person, or define your ability to pay back a loan.
Another misconception is that high-interest rates cannot be avoided. Even though bad credit loans may have slightly higher interest rates, they can be a lifeline during financial emergencies. As long as you borrow responsibly, you can mitigate these costs.
How to Get An Emergency Loan with Bad Credit

In order to get an emergency loan with bad credit, you must first meet the following minimum criteria:
Minimum requirements to get a loan:

Be at least 18 years old (19 years old for applicants in British Columbia, New Brunswick, Nova Scotia).

Be a resident of any of the provinces in which we operate. (AB, ON, BC, MB, NB, NS, PEI)

Show that you have been receiving the same source of income for the past three months.

Have a total net income of at least $800/month.

Have access to an online bank account.

Have a valid mobile phone number, address, and email address (VoIP numbers are not accepted).
If you meet the requirements on this list, then all you need to do is create your iCash account and follow the easy-to-understand instructions on applying for a loan. It's truly that easy!
Urgent Loans for Bad Credits in Canada

Urgent loans for bad credit in Canada can help you avoid the fear of rejection and limited options that are often given to you by traditional banks. In Canada, urgent loans for bad credit provide a lifeline for those in need.

The challenges of bad credit often include the stress and anxiety associated with potential loan rejections. It can feel like doors are closing, leaving you with limited financial options. Thankfully, urgent loans for bad credit Canada are designed to bridge this gap, offering a path to financial recovery.
Quick Tips for Obtaining Urgent Loans for Bad Credit in Canada

To increase your chances of getting an urgent loan for bad credit, start by understanding your credit profile. This will help you in identifying potential lenders and loan options that are more lenient toward someone with a lower credit scores.
Next, research lenders who specialize in offering urgent loans for bad credit. These lenders often consider factors beyond your credit score, such as income and employment stability.
Planning for repayment and understanding the terms and conditions of the loan are also essential steps to ensure you make informed decisions when applying for urgent loans. Remember that having bad credit doesn't define your ability to overcome financial challenges; a good lender will be willing to work with you even if you don't necessarily have the best credit.
Online Emergency Loans In Canada
Online emergency loans are the perfect alternative to traditional lending methods in the digital age, as they offer a host of advantages to those in need.
These loans are accessible 24/7, meaning that help is never more than a few clicks away with your smartphone or laptop. There's no need for extensive documentation or lengthy in-person meetings, taking time out of your day unnecessarily. And with a straightforward application process, you can quickly access the financial support you require and then receive your instant e-Transfer loan in 2 minutes.
Plus, online emergency loans ensure that you're not left waiting for several hours or days to get your money. Say goodbye to long lines and paperwork and embrace the ease, speed, and accessibility of online emergency loans. Your peace of mind is just a few keystrokes away.
Emergency Loans with No Refusal in Canada

With emergency no refusal loans in Canada, you'll never have to worry about the stress of rejection when you need cash fast. These loans are designed to offer a significantly higher chance of approval, even if you've faced rejections from traditional lenders in the past. 
With a commitment to helping individuals during challenging times, iCash offers instant loans that are very easy to get approved for, so you can ditch the stress and get back to focusing on the things you care about most.
No refusal payday loans in Canada assures applicants that, regardless of past financial setbacks, there are options available. This is exactly why iCash analyzes other things, aside from your credit history, when approving loans - because we understand and know that a person is more than just a number.
Emergency Loans with No Credit Check

If you're looking for emergency no credit check loans, it's important to know that all reputable lenders will always perform a minimum soft credit check, which is simply to verify your information and not a factor when it comes to approving individuals for loans. Regardless of your credit history, you have the opportunity to secure the financial support you need during challenging times.
Either way, the benefits are clear. With only soft credit checks performed, the application process becomes faster, and approval rates tend to be higher. This translates to quicker access to funds when you're facing financial emergencies.

Emergency Loans for Unemployed Canada

If you're unemployed or don't necessarily have a regular source of income, you can still qualify for emergency loans for the unemployed in Canada. The fear of being without a regular income can be overwhelming. They consider other factors, such as government benefits, or alternative income sources (such as self-employed freelancer workers), ensuring that unemployed individuals can still access financial support when they need it most.
Just like your credit score, your employment status may unfortunately be something that is entirely out of your control. While traditional institutions will almost immediately refuse someone who is either unemployed or receives income from non-employment sources, reputable payday lenders like iCash will always be willing to work with you to make things as easy as possible.
Apply for an Emergency Loan Online!
If you need apply for an emergency loan online today, you'll be happy to know that you can apply for one all from the comfort of your home. When unexpected financial crises strike, time is of the essence. Thankfully, online applications for emergency loans, particularly from iCash, offer a streamlined and user-friendly solution.

Financial emergencies shouldn't overwhelm you. Today is the day to take control of your situation. You can apply for an emergency loan online on the iCash website right now. Experience the ease, reliability, and speed via of our online application process and then getting your funds by fast e-Transfer. You are just a click away from financial stability. Get the help you need with iCash, your trusted partner in times of need. Apply now!