As Black Friday and Cyber Monday 2023 approach, Canadians are ready to snag as many deals as they can. There is no doubt that these two days have practically become beloved traditions, offering opportunities to grab deals on a huge range of products like tech gadgets, fashion essentials, home decor, and more. 
Here are the top 9 places in Canada to find Black Friday and Cyber Monday deals in 2023. It doesn't matter if you're a tech nerd, fashion enthusiast, a DIY person, or simply looking for the perfect holiday gifts, this guide will help you find some great places to grab a few deals!
Win a $300 Gift Card to Best Buy, Roots or The Bay
Before we get into the best places to grab a deal, we have something special for YOU! How would you like to win a $300 gift card from Best Buy, Roots or The Bay? We'll assume you're interested - so if you want to find out how to snag that sweet gift card, head over to our contest page now! The contest runs from November 14th to November 23rd, so you have plenty of time to enter!
9 Places to Get Great Black Friday and Cyber Monday Deals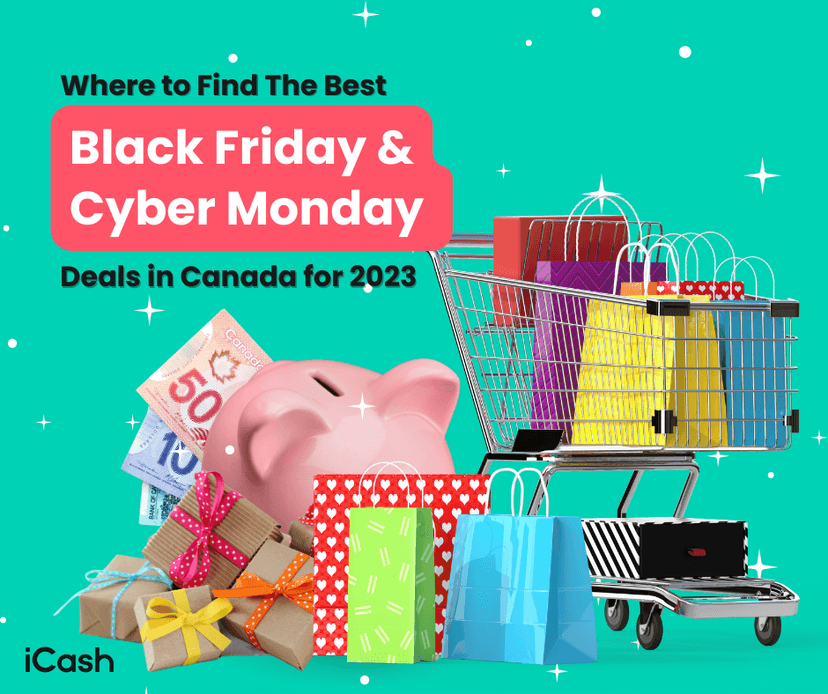 Amazon Canada
Without question, Amazon Canada is a Black Friday and Cyber Monday powerhouse, offering massive deals across virtually every category you can think of. You can find discounts on electronics, including the latest smartphones, laptops, and smart home devices. 
Amazon also offers huge savings on fashion, home goods, and even groceries during these events. With winter right around the corner, now might be a good time to look for a new jacket or boots if you're in the market. Look out for Amazon's Lightning Deals and Early Access promotions for limited-time discounts on various products too.
Best Buy
When it comes to tech, Best Buy is where you want to shop during Black Friday and Cyber Monday. You can expect a vast array of deals on everything tech-related. As one of the largest electronics retailers in the country, Best Buy showcases substantial discounts on a wide range of products, making it a go-to destination for those looking to upgrade their gadgets and home electronics. 
You're likely to find savings on items like televisions, laptops, smartphones, gaming consoles, headphones and a lot more. So whether you're looking to elevate your home theater experience with a larger TV, invest in a faster laptop, or grab yourself a PS5 or Xbox Series X, Best Buy has you covered.
Walmart
Similar to Amazon, Walmart is a one-stop shop for Black Friday and Cyber Monday deals as you can get discounted items across numerous categories. You can expect mega price drops on tons of products, from toys for the kids to essential kitchen appliances, furniture, fashion, and much more.
For parents, Walmart provides plenty of discounts on toys and games, making it an ideal destination to get ahead on your holiday shopping. With both in-store and online shopping options, Walmart's extensive range of deals ensures there's something for everyone during Black Friday and Cyber Monday in Canada.
The Bay
When it comes to luxury shopping, Hudson's Bay is where to be. During Black Friday and Cyber Monday, you'll likely find deals on designer fashion, high-quality home goods, and premium beauty products. These items are typically quite expensive during the regular season, so now might be the perfect time to snag something, either for yourself or for a loved one. Their beauty department also offers exclusive discounts on cosmetics, skincare, and fragrances, often accompanied by limited-time gift sets that add extra value to your purchases.
The Bay's Black Friday and Cyber Monday sales are an opportunity to invest in quality items that bring style and sophistication to your life. Be sure to explore their online store for the latest discounts and promotions, making The Bay a top choice for those seeking to embrace luxury while enjoying significant savings during these shopping events.
Canadian Tire
Canadian Tire is a go-to destination for home improvement enthusiasts and outdoor adventurers during Black Friday and Cyber Monday. If you need tools, outdoor equipment, camping gear, automotive supplies, or anything else, then now is the time to go shopping! Expect fantastic savings on power tools, gardening equipment, and all the necessary supplies to tackle household projects. 
If you love the outdoors, you can find deals on everything from tents and camping gear to automotive accessories, which makes Canadian Tire the ideal destination for those looking to spruce up their home or embark on outdoor adventures. Make sure you explore their online store for the latest discounts and promotions to make the most of these savings opportunities.
Staples
Need to stock up on office supplies and tech gear? Then during Black Friday and Cyber Monday, you're going to want to pay a visit (either online or in-person) to Stapes. Their sales usually bring significant discounts on laptops, printers, office furniture, and all the essential supplies to keep your home office or workplace well-equipped. Whether you're a remote worker, a small business owner, or a student preparing for the upcoming semester, Staples is a great choice to fulfill your needs at a fraction of the typical cost.
In addition to its focus on tech and office supplies, Staples Canada often features deals on a wide selection of accessories, including keyboards, mice, and storage solutions. These can significantly enhance your tech setup and ensure you're well-prepared for your daily tasks and projects.
Sephora
Sephora is a beauty lover's paradise during Black Friday and Cyber Monday. You can expect discounts on cosmetics, skincare products, fragrances, and beauty tools. This might also be a good time to explore exclusive gift sets, limited-time offers, and higher-end beauty brands if you want to indulge in self-care or discover the ideal beauty gifts for friends and family.
Sephora's promotions cover a wide range of beauty essentials, from top-tier makeup brands to innovative skincare solutions. Whether you're searching for that perfect lipstick shade, a luxurious facial serum, or the latest beauty gadgets, Sephora provides a wealth of options at reduced prices.
Toys "R" Us
Toys "R" Us is a haven for parents and gift seekers during Black Friday and Cyber Monday, with discounts on toys, games, and learning products. It's especially the ideal place to stock up on holiday gifts for children of all ages with markdowns on everything from action figures to educational toys. Whether you're seeking the latest trending toys or timeless classics, Toys "R" Us offers fantastic deals for parents and gift-givers, making it a top destination to fulfill kids' holiday wishes without breaking the bank.
Indigo
For book lovers of all ages, a must-visit during Black Friday and Cyber Monday is Indigo. With discounts on books, bestsellers, and unique gifts, it's the perfect place for bibliophiles and thoughtful shoppers. They also have stylish stationery and home decor items, making it a go-to spot for finding unique, personalized presents for friends and family (or for yourself, of course). 
Need Some Extra Spending Money? iCash Has Your Back
Whether you need to cover the cost of some unexpected bills, or want some extra cash to spend on Black Friday and Cyber Monday, you can get approved for an instant payday loan from iCash in just minutes. Over 90% of our applicants are approved because we don't solely base our lending decisions on credit scores (unlike traditional institutions like banks). So if you're ready for some quick financial relief, sign up today!
All trademarks, logos and brand names are the property of their respective owners. All company, product and service names used in this website are for identification purposes only. Use of these names, trademarks and brands does not imply endorsement or affiliation.