Get a same day loan up to $1,500 today
If you need a same day loan of up to $1,500, you may be wondering where to turn. Fortunately, iCash is here to help. Our platform makes it easy to get a small loan online anywhere in Canada, so you can get the money you need as soon as you need it.

According to a recent survey by Statistics Canada, 1 in 4 Canadians cannot cover an unexpected expense of $500. We know that financial emergencies can arise at any time. Whether it's a car repair, medical bill, or home emergency, we're here to help you cover those costs. 

We make it simple to apply and get approved on the same day, so you can get cash without leaving your home, which is why many are choosing us as a smart alternative to in-store payday loans.

One of the key reasons for choosing us is our fast approval process. We know that when you need to borrow money on short notice, you don't have time to wait around. That's why we offer loans that can be approved 24/7. Once you apply, you'll find out instantly if you've been approved, and receive your funds via e-Transfer in approximately 2 minutes.

Our application process is simple and straightforward, and our team is always here to help if you have any questions or concerns. Don't let unexpected expenses get you down – get a same day loan online with iCash today!
Fast online application
Our fast online application process is designed to be simple and user-friendly. All you need to do is provide some basic information about yourself and your financial situation, and we'll take care of the rest. Our application process is designed to be completed quickly, so you can borrow money when you need it most.
One of the benefits of our fast online application process is that it's super secure. We take the security of your personal and financial information seriously, which is why we use state-of-the-art encryption technology to protect your data. You can apply for our loans with confidence, knowing that your information is safe and secure.
If you're in need of fast cash, don't let a complicated loan application process stand in your way. Apply for same day payday loans with iCash today!
Same day e-Transfer
iCash is the perfect solution when you need to borrow money quickly, we fund loans on the same day via e-Transfer, typically within 2 minutes of e-signing your agreement. You can get the funds you need ASAP! Our loan processing time is unmatched, thanks to our AI-powered approval process. This means that we can review your application and provide instant approval decisions in real-time, so you can get approved and get your money deposited immediately. 
Once you've been approved for your online loan, you can expect to receive the funds quickly. We offer immediate e-Transfers, which means that you can receive your money within two minutes of signing your digital agreement.

We're committed to providing our customers with fast, reliable service. Our same day e-Transfer option is just one way that we make borrowing money as easy and stress-free as possible! You'll never want to visit an in-store lender ever again!
Flexible repayments*
According to Statcan, in the fall of 2022, over one-third (35%) of Canadians reported that it was difficult for their household to meet its financial needs in the previous 12 months. That's why we offer flexible repayment options (depending on the province you live in) for our same day loans, so you can repay your loan at your own pace.
When you apply with iCash for an online personal loan, you can choose between 1-3 repayments, depending on what works best for you. This gives you the flexibility you need to repay your loan on a timeline that works for your budget and financial situation.
We also offer minimal fees for our cash loans. Our fees are $15-$17 per $100 borrowed, which means you'll know exactly what you're paying upfront, without any surprises or hidden costs.

In addition, we offer a cashback program* that rewards you for being a responsible borrower. When you repay your loan on time, you'll earn cashback that you can use for anything you want.
How our same day loans work
Whether you need an emergency loan today or tomorrow, our same day loans work for everyone. Everything is fast and effortless, so you can get approved and get your money within the hour. Here's a quick look at our three easy steps to follow when applying.
1. Complete our simple online loan application
We've made it simple and effortless to apply for a loan with us. Just select your loan amount, and repayment plan*, and provide some basic personal details. Our user-friendly online application form is accessible from anywhere, whether on your computer or mobile device, making it incredibly easy to get that online loan as soon as you need it.

2. Receive an instant decision
Our fully automated online application process ensures that you get a speedy approval decision. Once you've submitted your application, our advanced technology instantly reviews your information and provides a decision on how much we can lend you. If you're approved, all that's left to do is electronically sign your loan agreement! We'll only lend you an amount that you can comfortably afford to repay.
3. Access your funds quickly
We understand that when you need funds, time is of the essence. That's why once your agreement is signed, your funds will be sent by e-Transfer in as little as 2 minutes! Our fast and convenient process means that you can get the funds you need, hassle-free. Plus, with funds sent 24/7, you can access them anytime, anywhere, making us the best alternative to in-store payday loan lenders. Gone are the days of visiting a physical location, waiting in line and signing tons of paperwork.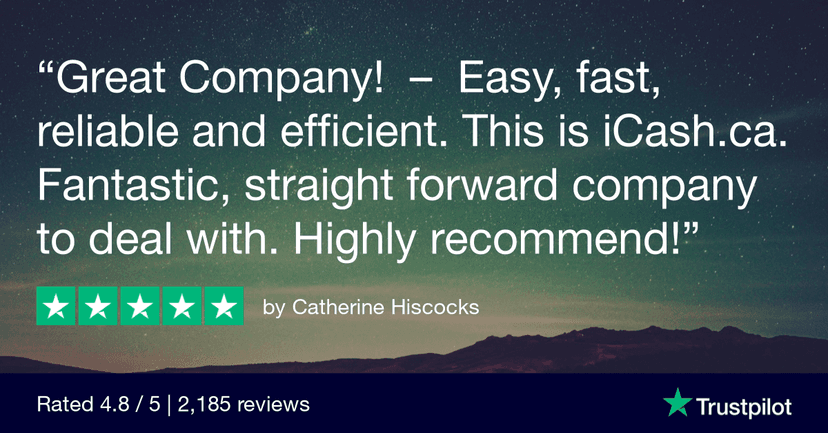 Our personal loans are easy to get approved for
Many Canadians are tired of in-store payday loans. Unfortunately, most of Canada's online lenders are not as fast or convenient as in-store payday lenders, and online lenders are typically more difficult to get approved for. That's why at iCash, our priorities are on providing accessible credit solutions to all Canadians while providing a convenient service with instant approvals and lightning-fast e-Transfers.
We believe getting an online loan on the same day you apply for it should be easy, simple and stress-free. That's why we have minimal requirements to get approved. We also won't require any documents or a perfect credit score to be approved for our personal loans. Our process is designed to be accessible to a wide range of applicants, including Canadians with bad credit, so you can get financial help without any added stress. To be eligible for a loan with us, you simply need to meet the following criteria:
Be at least 18 years old (19 years old for applicants in British Columbia, New Brunswick, Nova Scotia).

Be a resident of any of the provinces in which we operate.

Show that you have been receiving the same source of income for the past three months.

Have a total net income of at least $800/month.

Have access to an online bank account.

Have a valid mobile phone number, address, and email address (VoIP numbers are not accepted).
Same day loans for bad credit
Having a few negative marks on your credit history can make it difficult to access the financing you need. That's why we offer bad credit loans, so that people with all credit backgrounds get the financial assistance they require. 
We work with hundreds of people with poor credit daily, and we never turn down an applicant solely because of their credit score. Our focus is on your ability to repay the loan, not just your credit history. So, if you're seeking bad credit personal loans, iCash can absolutely help you.

Same day loans with no credit check
We offer easy approval personal loans to help you get the funds you need quickly, without worrying about your credit score. We understand that many people are hesitant to apply for a loan because they don't want to make their credit worse or believe that a credit check will automatically lead to a decline. 

However, we focus on your ability to repay for approval, rather than just your credit score. It's important to note that we do perform a credit check, as do all licensed Canadian lenders.  We are upfront about that, and you it's also important to know some lenders will do a "soft credit check" but promote it as "no credit check loans." 
iCash same day loans VS other options
| | |
| --- | --- |
| iCash | Other lenders |
| Instant approval decision thanks to our fully automated application. | May take several hours or even days to approve your loan application. |
| Completely digital application process, giving the flexibility to apply from anywhere. | May require visits to physical locations and signing multiple documents and contracts, or faxing documents. |
| All types of incomes and credit scores accepted, allowing for easier loan approval. | Stricter lending criteria, limiting the amount of money you can borrow. |
Get your loan the same day you apply for it!
We're proud to offer our customers a fast, convenient, and hassle-free experience when it comes to borrowing money. If you need cash fast, our same day loans are a perfect solution for you. With our fully online application, you can apply for a loan from the comfort of your own home or on the go using the mobile iCash app. We understand that life can be unpredictable, and that's why we offer the fastest online alternative to payday loans, so you can get the money you need right away. Apply now!