BEST LOANS FOR
SELF EMPLOYED
Loans for self-employed are a useful option when the unexpected happens, and you are unprepared financially. If you are one of the many self-employed Canadians, you know how challenging it can be.

Having your own business can be extremely satisfying, and you can enjoy your achievements at a whole new level than you would if you were working for someone else. At the same time, you're also taking all your business and your family's responsibilities.

Emergencies can happen to anyone, regardless of their form of employment. When faced with urgent costs that cannot be avoided, you have to find the funds to handle the situation. But when you're self-employed, things are a bit more complicated. It's not that easy to set money aside when you are struggling to keep your business on the right track.

On the other hand, when you need to borrow money to take care of a serious matter, self-employed loans can be tricky to access. Traditional borrowing sources can be out of reach because of your source of income. But solutions still exist, especially if you turn to private lenders.

Payday loans for self-employed are accessible if you find the right lender. An online lender like iCash can be the helping hand you are looking for.

If you take an online loan for the self-employed, you will go through the same general steps as you would with a traditional loan. But this time, the entire process will be simplified and fast. You can get a lump sum that you can use to handle your emergency, and then you'll reimburse the money along with interest over a flexible period*.

Having the money available in no time is a huge advantage, as time is crucial when facing an emergency. That's why opting for private loans is the best thing to do.
An emergency loan for self-employed can get you up to $1,500, a sum calculated to cover most of the urgent expenses that can appear in a household. Whatever your unexpected event is, you can use the money any way you need. You can take care of a medical emergency, a broken appliance in your home, or pay those bills that have been stacking up and causing you stress.

Having to grow your own business is not an easy matter. But at least when urgent costs surprise you, you have a way of borrowing money without having to pay huge interest and having to face rejection because you're not traditionally employed.

Online lenders know that loans for the self-employed are a real necessity. At iCash, we ensure reasonable requirements and a straightforward application process no matter where your income comes from.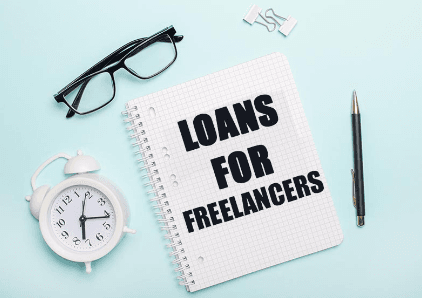 Loans for Gig Economy Workers
Gig economy workers have many advantages in their activity. They can set their own schedule and get rid of the rigid nine-to-five working hours. They can be their own bosses and create a personalized strategy for earning money and expanding their activity.

However, all that freedom comes with a few disadvantages, especially when it comes to financial aspects. Your schedule is not the only unstable aspect; your income can also have significant fluctuations. While that may not be a severe problem in general, it can become one when you need to apply for a loan.

A payday loan can be essential in many situations, even if you are self-employed. Suppose you want to become an Uber driver and need a bit of financial support in buying a car. An express loan can help you start using that car to earn money sooner, so a loan will be useful. But you have to make sure you choose the right type of loan.

Traditional loans are conditioned by a good credit score level and a fixed income, and that's not always easy to keep if you're a gig economy worker. Private lenders, however, have an entirely different take on the matter. Even with your particular activity and income, you have high chances of accessing a loan as long as you have the financial strength to refund the money.

Direct lenders have different ways of assessing risk and even look beyond the dreaded credit history. With us, for instance, we offer short-term lending options to a wide variety of workers from different environments and with various ways of earning their money.

The table below will help you get an idea of what types of loans you can access, even if you are self-employed:
| | |
| --- | --- |
| Types of Loans for Self-Employed Workers | |
| Loans for Uber Drivers | Are you having trouble getting a loan as an Uber driver? We have an easy solution for you. You can access personal loans for Uber drivers and cover your urgent costs, even if your clients' number isn't always steady. |
| Loans for Lyft Drivers | Payday loans for Lyft drivers are available despite the variable schedule and income. We analyze your situation from a general perspective, and your chances of approval are relatively high. |
| Loans for SkipTheDishes Couriers | As a SkipTheDishes courier, you can access affordable loans as an independent worker, as long as you meet our flexible requirements. |
| Loans for Instacart Delivery Driver | Instacart delivery drivers have great chances to qualify for an express loan with instant approval. |
| Loans for Doordash Couriers | A DoorDash courier can easily apply for an emergency loan for self-employed and find out on the spot if they are approved. |
| Loans for Upwork Freelancers | Our loans for freelancers offer up to $1,500 for unexpected expenses. You can apply online and be approved 24/7. |
Instant cash loans are a helpful hand that anyone needs once in a while. And since we made them available even for people living on the benefits that the government of Canada provides, it was natural to also offer them to those who are self-employed.
Loans for Self Employed with Bad Credit
Even if you had your share of credit issues in the past, you could still handle your urgent costs with the help of a private lender. Loans for self-employed with poor credit are possible because a private lender uses different criteria in assessing your situation than traditional lenders. Even paired with a non-traditional source of income, bad credit does not impede accessing short term loans, as long as you meet the rest of the requirements.

Your credit history won't be an issue, either. Private lenders don't consider a less than perfect credit history a deciding factor in approving a loan. Even if you haven't used any credit cards or loans before and have no credit history whatsoever, you can still get a loan with a bad credit score.

Despite what many people think, the credit check is not something you should fear and try to avoid, as it's not always essential. We take a look at your credit score, but it's just part of the routine; we won't base our assessment on it. As long as you can reimburse your loan, we are ready to offer you one.

Not even having been declined by a bank can affect your chances. What matters is to meet our reasonable conditions, and you can have the money sooner than you think. And since the loans for self-employed with poor credit are unsecured loans, you also don't need to worry about providing collateral.
Best Lenders for Self Employed
Being your boss is amazing, but it also makes it a bit more challenging to access a loan, especially when time is essential. Your particular activity may limit your options, but they still exist. We'll go through the main types of lenders you can choose from, to help you find the best lenders for the self-employed.

Banks have been people's first choice for borrowing money for a long time, and they can still be a good option in many situations. However, getting a credit card or a loan using this traditional method can be challenging when you are self-employed.

You need to be ready for a thorough credit check and a complicated application process that will involve specific paperwork. But the main challenge can be having to provide proof of employment.

Independent lenders can be a better option for freelancers, as they are more flexible. Despite having to follow the same regulations as banks, their lending criteria are less strict. You will have to offer financial information to prove that you are creditworthy, but you will have better chances than the traditional loans banks provide.

Payday lenders are specialized in emergency loans, and they make a goal out of making their lending options available to many categories of people. They accept multiple income sources, so even if you are a freelancer, you still have high chances to be approved.

These are unsecured loans with reasonable interest and repayment terms*. Private payday lenders like us can be the best lenders for self-employed because they have flexible requirements and focus on your current financial strength, unlike other types of lenders.
Need an Online Loan for Self Employed?
If you need an online loan for self-employed in Canada, private lenders are your best option. iCash is one of the top lenders and focuses on online payday loans and makes them accessible to people with various income types.

Our loans are an excellent match for self-employed and gig economy workers because we look at the financial situation from a different perspective than traditional lenders. We still make sure you can reimburse the loan, but by using particular criteria.

Bad credit and traditional payrolls are no longer on top of the list, as we understand that people earn their living in different ways, and that shouldn't be a disadvantage when they need funding.

There are quite a few advantages from choosing a lender like us for an online loan for self-employed. The lending options that we offer check all the boxes of an outstanding loan. What are the benefits that an easy personal loan for self-employed needs to provide?

First of all, you get instant approval, which is essential during a crisis. It takes about ten minutes to fill in the application, and you will receive an answer immediately.

Being able to apply from anywhere is another crucial advantage. Not having to go to a loan store in person is particularly handy when your work implies an unusual schedule. If you're self-employed, you cannot always adjust to regular working hours, so the online alternative seems to be tailored to your needs.

One of the primary goals is to get you through the entire process as fast and easy as possible. No paperwork is required for that to happen, which is a serious hassle with other types of loans. All you need to submit is the online application, and that service is available 24/7.

The flexible requirements mean you have high chances of approval. And once you receive the good news, the money will also become available sooner than you may expect. You will be able to take care of your urgent expenses that same day.

If it's your first time applying for an online loan, you don't have to worry about safety. Our system is entirely secure, and your personal information will be safe every step of the way. If you have some questions or need help for any reason, customer support is always at your service.